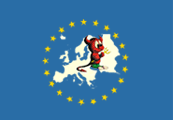 EuroBSDCon 2005, the Main European BSD Conference
November 25 - 27, 2005, University of Basel, Switzerland
Continuing a successful series, the fourth EuroBSDCon conference took place in Basel, Switzerland. There have been 226 attendees from 27 countries. We put some impressions of the event online.
EuroBSDCon is the main european BSD conference where members from all BSD teams meet and share experience and first hand know-how with the users of BSD systems.
The fourth EuroBSDCon was organized by micro systems (www.msys.ch), and was held at the University of Basel (www.unibas.ch).